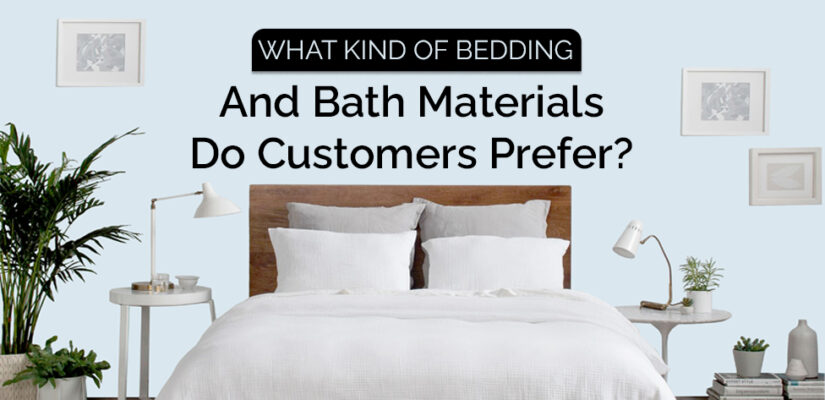 What Kind Of Bedding And Bath Materials Do Customers Prefer?
Customer satisfaction is what entrepreneurs strive hard to achieve. Why is customer satisfaction important? A regular customer is cost-effective compared to new customers. Word of mouth travels faster than you can imagine. It affects your overall customer journey. In hospitality, customer retention holds a higher value than new customers.
To make your customers happy, you should know what they expect. In addition to friendly staff and amenities, a person who spends time in your hotel expects a cosy and relaxing stay. Linen is the most suitable material for comfortable bedding and bath towels. Ensure the product you use does not compromise quality; to achieve that, purchasing your products from the best hotel linen supplier is a must.
Bedding:
What do guests expect from their hotel rooms? Many choose to stay in a hotel on vacation or business trips. It is natural to expect a different or extravagant experience while staying at a hotel. Nobody wants to pay for something they enjoy at home every day. High-quality products can upscale the look and feel of their stay.
Understand that your guests spend most of their time in their beds, reclining or lying down.
They communicate more with bed sheets, blankets, duvets and pillow covers than your staff. Hence, the determining factor in customer gratification is the linen you use.
Make an appointment with hotel linen manufacturers in India to discuss the quality and wide range of products available. It is high time you decide to purchase quality products considering your budget.
Bath Towels, Robes And Mat
After an exhausting day at work or exploring various tourist places, everyone loves to have a long warm shower. How does it feel if the towels scratch your skin? You will get frustrated, right? The right choice of towels can do wonders for the customer experience.
Cotton towels are the most sought-after material. A 100% pure cotton feels like heaven against your skin after a refreshing bath. The quality of cotton lies in the thread count. A more significant thread count fabric has high quality.
Why Do Guests Like High-Quality Linen?
Good quality linen products are incredibly comfortable and soft.
They do not wrinkle or wear down quickly.
They look amazing and give the guests a luxurious look.
They are highly velvety against your skin.
What Do Guests Like About Cotton?
A pure natural product with high absorbencies, like the disposable towels for salon which are highly absorbent.
They do not scratch your skin.
They are breathable fabric and keep you cool.
Maintenance
Choosing the right product is one part of customer satisfaction; the other part is maintaining them. What will you do if your towel has stains or your bedding has a foul odour? Your customers expect a spotless room with a pleasant fragrance. Hence, proper washing and scrubbing of sheets, towels and curtains are necessary.
Nobody will remember the antique furniture or flamboyant wall painting in your hotel room. On the flip side, a stinking bed will be remembered forever by your guests. Sharing the bed sheets with strangers is cringy to anyone; do not make it a nightmare. Disposable bath towels can be an excellent addition to taking you one step ahead of competitors. Hence, approach KKR Linens, the best supplier of linens, to avail quality linens and bath towels.