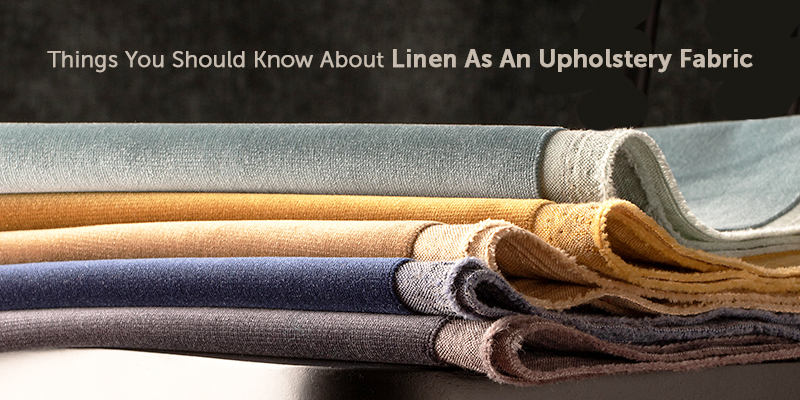 Things You Should Know About Linen As An Upholstery Fabric
The process of using fabric as upholstery began in the 17th century. Upholstery is the soft covering of your furniture, including the fabric and padding. Various materials like cotton, linen, silk, leather, rayon etc., are used for upholstery. Deciding which fabric to use on your living room sofa and banquet chair covers is confusing.
Linen is the best choice if you have to give a makeover to your furniture. You must consider all options before choosing the best fabric for your furnishings, which is a considerable investment. This can prevent you from feeling remorse after a few months. Selecting a colour or pattern that doesn't match your room will make your home or office look disoriented.
Linen is a classic material and is better than many other fabrics available on the market. This article might help you decide if linen goes well with your furniture.
Consider these while choosing an upholstery fabric:
Nature of fabric:

You must thoroughly understand how the fabric changes over time. This knowledge of cloth will help you choose the material based on the longevity of the furniture. Also, considering where you will put your furniture in your house plays a vital role in deciding the fabric.
Maintenance:

"How should it be cleaned?" should be your first question to the fabric manufacturers. Since maintenance is the key to any piece of fabric, you must know how to wash it, whether it can be sun-dried, how to remove the stains, etc. If you are running a hotel, it is essential to ask your hotel linen supplier if your furniture can be vacuumed, as it saves time for your housekeeping staff.
Cushion:

Even though the inner layer of your furniture is not visible, it accounts for the softness and durability of the table. The nature of how your furniture feels differs based on what you use underneath the outer cover. Cotton, polyester and foam are commonly used as cushions.
Advantages of linen in upholstery:
Linen tends to absorb the dye better than other materials. Hence, you can use linen for elaborate design. Various colours and patterns in linen allow you to match your interior design.
The stains can be spot cleaned easily.
It gives an elegant, premium look at an affordable price.
Linen is naturally a strong fibre. It is thicker than cotton, and hence it is durable and sustainable.
The pores in the linen allow for natural air circulation, and it doesn't stick much. Hence, you can use linen in both summer and winter.
It can be washed and dry cleaned easily. Also, vacuuming is easy with linen. With proper maintenance, linen can last for decades and serve you.
From the environmental perspective, linen is a natural fibre manufactured from flax plants. The processing involved in making linen fabric is also minimal. Since we all need to contribute to a safe environment, using linen is the first step toward being eco-conscious.
Discuss with your interior designers and hotel linen suppliers in Chennai to identify the colour, pattern and quality of linen required for your business. Make your home and office look more artistic and elegant.