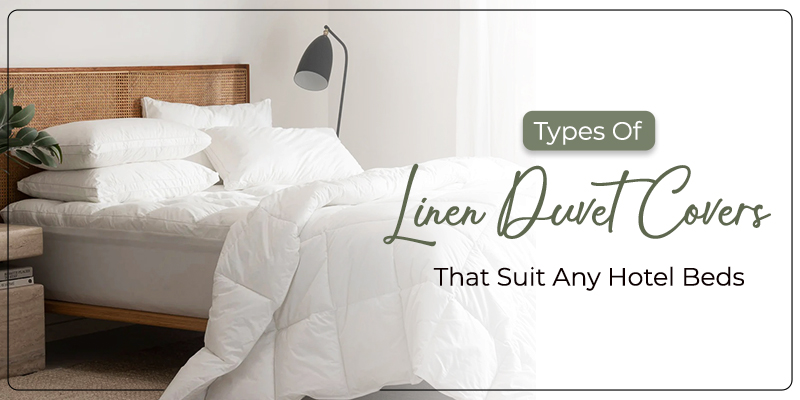 Types Of Linen Duvet Covers That Suit Any Hotel Beds
If you are reading this blog, you will be aware of linen sheets, their endless benefits, and the luxurious feel it gives your living space. Linens are the most preferred hotel bedding essentials, and linen duvet covers are a popular choice for hotel bedding due to their luxurious feel and durability. They offer a crisp, clean look that adds elegance to any room. KKR Linen, one of the best hotel linen suppliers in Chennai, provides a wide variety of linen duvet covers, giving a complete makeover to your hotel room. Hence, this blog will look into the most popular types of linen duvet covers that are perfect for any hotel bed.
Classic White Linen Duvet Cover
The foremost choice for any hotel is the classic white linen duvet cover. A classic white linen duvet cover is a timeless choice for any hotel room. It offers a fresh and clean look that exudes luxury and sophistication. The best part of including the white linen duvet cover is it maintains its crisp appearance even after multiple washes. This classic duvet cover is versatile and can be paired with any bedding, from vibrant prints to neutral solids. KKR Linens also offers classic white disposable bath towels, complementing the entire theme of the hotel room.
Striped Linen Duvet Cover
A striped linen duvet cover adds a touch of personality to a hotel room. Stripes can be bold or subtle, depending on the thickness and color of the stripes. A classic blue and white stripe is a traditional choice, while a bold black and white stripe adds a modern edge. Striped linen duvet covers can be paired with solid-colored sheets and pillowcases for a clean look or mixed with other patterns for a more eclectic vibe.
Neutral Linen Duvet Cover
A neutral linen duvet cover is perfect for hotel rooms that feature bold wall colors or patterns. It helps to balance out the space and create a sense of calmness. Neutral colors such as beige, gray, and taupe are easily paired with other bedding and decorative accents. They also provide a serene backdrop for a good night's sleep. KKR Linens, the best hospital linen suppliers, also offer neutral color linen sheets for healthcare centres, giving the hospital a new atmosphere.
Embroidered Linen Duvet Cover
An embroidered linen duvet cover adds texture and detail to a hotel room. Embroidery can be simple or intricate and can be used to add a pop of color to a neutral duvet cover. Embroidery can also be used to create a unique design that complements the overall theme of the hotel room. For example, an embroidered duvet cover with a floral pattern is perfect for a room with a garden or nature theme.
There are many different types of linen duvet covers that are perfect for hotel beds. Whether you want a classic white duvet cover or a playful printed one, there is a duvet cover that suits every hotel style. Linen duvet covers are a durable and luxurious choice to provide guests with a comfortable and memorable stay. Approach KKR Linens, which offers banquet chair covers with all types of hotel bedding essentials to make your hotel room look luxurious and sophisticated.